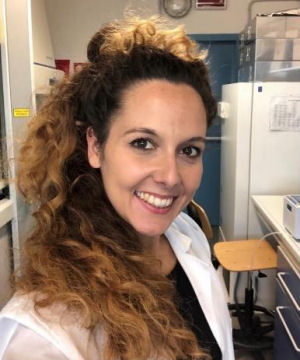 ---
Post-Doc fellow
Analytical Chemistry

Phone: +39 050 2219 254
E-Mail: Questo indirizzo email è protetto dagli spambots. È necessario abilitare JavaScript per vederlo.
Address: Via G. Moruzzi, 13 - 56124 Pisa Italy
---
Research
Bioanalysis, chromatography, mass spectrometry, metabolomics, microextraction, oxidative stress, non-invasive approaches and health monitoring.
Biography
Denise Biagini (Female) obtained her Master's degree in Analytical Chemistry cum laude in 2016 at the University of Pisa, Italy. From November 2016, she was a PhD student in Chemistry and Materials Science at the Department of Chemistry and Industrial Chemistry. She obtained her PhD (cum laude) in May 2020. She is now post-doctoral fellow at the Department of Chemistry and Industrial Chemistry of Pisa with a project entitled "Determinazione di sostanze chimiche volatili e semi-volatili emesse da volontari sotto stimolazione emotiva" s.s.d. CHIM/01 under the supervision of Prof. Fabio Di Francesco within the framework of the EU POTION project (https://potionh2020.com).
Education
Ph.D., Chemistry and Materials Science, University of Pisa, 2020
M.S., Chemistry (Curriculum: Analytical Chemistry), University of Pisa, 2016
B.Sc., Chemistry, University of Pisa, 2013
Research interests
Her research is mainly focused on the development of MS-based analytical methods for health and disease assessment in conventional and unconventional body fluids (plasma, saliva, breath, sweat, dried blood spots). In the recent years, she has been working on targeted metabolomics by tandem mass spectrometry for the determination of markers of oxidative stress and inflammation in different research fields, including the current pandemic crisis. The analysis of the human volatilome also represents a topic of her interest. During her PhD, she spent three months at the Research Hotel of The Metabolomics Innovation Centre (Edmonton, Canada) under the supervision of Dr. Rupasri Mandal and Dr. David Wishart deepening her knowledge on untargeted metabolomics. She is author of more than 30 papers on international peer-reviewed journals (Scopus ID: 56439741600; ORCID: https://orcid.org/0000-0001-6747-9712) and more than 20 contributions to national and international congresses.