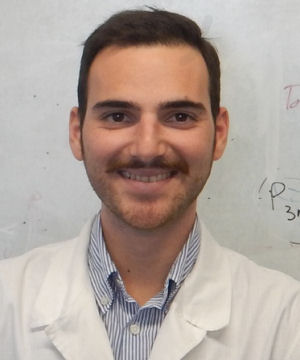 ---
PhD Student
CATS

Skype: andrea.bonini93
E-Mail: Questo indirizzo email è protetto dagli spambots. È necessario abilitare JavaScript per vederlo.
Address: Via G. Moruzzi, 13 - 56124 Pisa Italy
---
Research
Sensors, biosensor, nanomaterials, biorecognition elements, electrochemistry.
Biography
Andrea Bonini is currently a PhD student in Chemistry and Materials Science at the Department of Chemistry and Industrial Chemistry of the University of Pisa, he is part of the Chemistry Lab for Analytical Technologies (CATS), where he performed both his bachelor and master's degree thesis. He worked respectively on synthesis and functionalization of reduced graphene oxide for pH sensor and the development of a urease based potentiometric biosensor for real-time monitoring of Urea during dialysis.
Education
M.S., Industrial Chemistry, University of Pisa, 2018.
Research interests
His research activities include the development, characterization and validation of electrochemical biosensors for clinical and environmental applications. His main interests are focused on the integration of biological recognition elements with new nanomaterials.