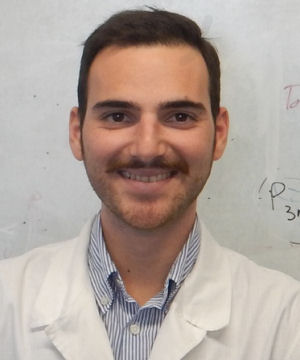 ---
Post-Doc Fellow
Affiliated with:
- CATS research group, Department of Chemistry, University of Pisa
- Microbiology and Molecular research group at Department of Biology, University of Pisa

Skype: andrea.bonini93
E-Mail: Questo indirizzo email è protetto dagli spambots. È necessario abilitare JavaScript per vederlo.
Address: Via G. Moruzzi, 13 - 56124 Pisa Italy
---
Research
Sensors, biosensor, biorecognition elements, nanobiotechnology and electrochemistry.
Biography
Andrea Bonini is currently Post-Doc Fellow in the CATS research group at the Department of Chemistry and Industrial Chemistry of the University of Pisa, and in the Microbiology and Molecular Biology research group at the Department of Biology of the same University.
He performed his bachelor, master and PhD degree in the CATS group.
During his PhD, he has been visiting student in the Nanobioelectronics and biosensors group at the Catalan Institute of Nanoscience and Nanotechnology (ICN2) under the supervision of Prof. Arben Merkoçi.
Education
PhD, Chemistry and Material Science, University of Pisa, July 2022
M.S., Industrial Chemistry, University of Pisa, 2018.
Research interests
My research interests are focused on the development of new sensor and biosensor devices to address and overcome the issues associated to the use of conventional techniques in clinical diagnostic and environmental quality assessment. In particular, I am enthusiastic about the study, discovery and modification of new biological elements to develop innovative biologically inspired biosensors.